Aviation Data
Welcome to this on-line publication. Here you can find my pictures of Military and Civil aircrft.



Military Pictures
Overview of my pictures of over 4700 military airplanes from over 55 countries.



Civil Overview
Overview of my pictures of over 9900 civil airplanes from over 100 countries.



Gallery
Pictures of both military and civil airplanes, taken nose on and/or tail on.



Virtual Radar Files (under construction; COULD GIVE ERRORS)
Outline and waypoint files that can be downloaded for use with virtual radar programs.


Pictures of individual aircraft in the Military section and Civil section are large (1500 pixels wide) and can best be viewed at 1280x1024 resolution or higher.
All pictures in the Military and Civil sections are ©Copyright Rudolf Otto unless stated otherwise.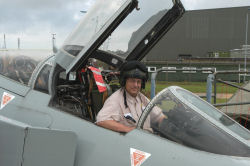 Photo: Rudolf Otto